Leroy -Somer is the world leader in electrical rotating equipment for over 70 years
It was fate that brought the young craftsman Marcellin LEROY to CHARENTE from his home in Northern FRANCE. In 1919, he realised, long before others did so, that a revolution was taking place which held great things in store for the future : more and more people would be turning to electric motors to improve their living and working conditions.
So,Marcellin LEROY set himself the goal of creating movement from electrical energy.
Marcellin LEROY was hardworking, imaginative and independent and from the start used production process that were almost completely integrated. Despite his lack of capital, this soon led to the establishment of his own foundry(1928)
The firm grew steadily and profits were reinvested on a regular basis.
LEROY's success was largely due to founder's determination to create close links between the staff and the company.
In 1947, Marcellin LEROY's amazing foresight for market requirements led him to start building new alternators which boosted the firm's growing reputation.
The company offers an enormous range of drive systems whose standard components - induction motors, self-starting synchronous motors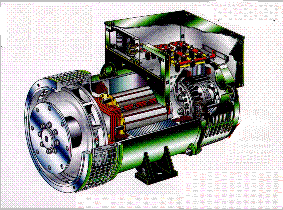 and DC motors - can be combined with gearboxes for adapting torque and speed, brakes for controlling movement, and electronic systems for overall control, monitoring and positioning.
LEROY-SOMER has an equally strong presence in the field of energy production, with an extensive range of low, medium, high-voltage alternators. since 1994 Powerstones supplies Leroy-Somer products in India.
Home | About Powerstones | What's New | Our Customers | Power Generation Products | Marine Products | Product Information |