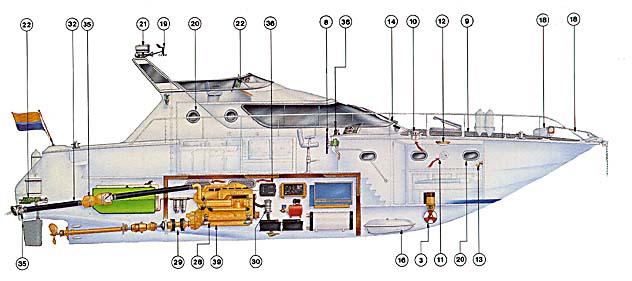 Product Details

Technical Data

Bow Thrusters 130/160 kgf

reversible D.C motor, 7 kw (9.6).
Thrust
1300/1600 N(130/160 kgf)
Length of Tunnel (L)
min. 500, max. 1000 mm(20"-40") optional equipment)
Diameter of tunnel
250 mm
(9.84") I.D.
Weight excl tunnel
appr. 46 kg (101 lbs)
Operating time
with battery capacity of appox. 100 Ah. and thrust force 1300 N (130 kgf): 6 min. continuously or max. 6 min. per hour at 480 A with battery capicity of appox. 300 Ah. and thrust force 1600 N (160 kgf): 4.5 minute . continuously or max 4.5 min per hour at 560 A.

Hydraulic Steering System
These pump units and cylinders are fully interchangeable, thus enabling the builder and the ower to choose the best possible combination of price and number of streeing wheel revolutions.
Steering Wheels
The spokes and the hub cab are made of stainless steel; the hub is made of aluminium
Fenders
Alexander III
Electric Anchor Windlass

(small in size, great in performance)

Anchors
Assets of Vetus Aluminum Anchors

Less than half the weight of an equivalent steel anchor.
May be dismantled and therefore easy to store.
May be used in all kinds of seabed conditions (special anchor position ffor soft,muddy bottoms).
Home | About Powerstones | What's New | Our Customers | Power Generation Products | Marine Products | Product Information |